Game Help
Getting Started
New to Bingo?
Playing online bingo

There are two types of bingo games: UK style with 90 balls and American style with 75 balls. Both types are equally fun to play. Once you've selected which type of game you'd like to play, simply buy some bingo cards! Prices start from 1p per card. A message will appear on the screen to let you know when a game is about to begin. Good luck!

If you've bought more than 6 cards, you can scroll between them by clicking the left and right arrow buttons to view your cards throughout the game. You don't have to worry about watching your numbers too much though because our special auto daub feature means you don't have to mark off your numbers as they're called.


90-ball Bingo
Overview
The most famous version of bingo is 90-ball bingo. Players opt-in to a 90-ball bingo game by buying numbered bingo tickets. A caller calls out numbers randomly and if they appear on a player's ticket, the player covers them or 'daubs' them. The 1st place winner is the player that covers any 1 line pattern, the 2nd place winner covers any 2 line pattern and the Full House winner covers all 3 lines on the ticket.
90-Ball Bingo Ticket

The tickets above is a typical 90-ball bingo ticket
The tickets sold at 90-ball Bingo games consist of a 3×9 chart of numbers. Each line of 9 boxes displays 5 numbers and 4 empty spots.
The lines are arranged in this manner:
1-9 in the 1st Column
10-19 in the 2nd Column
20-29 in the 3rd Column
30-39 in the 4th Column
40-49 in the 5th Column
50-59 in the 6th Column
60-69 in the 7th Column
70-79 in the 8th Column
80-90 in the 9th Column
The game of 90-ball Bingo is always played on strips of 6 tickets each, with very little exception. One strip displays the total of the numbers 1-90 spread around the 6 tickets, so that a number is covered at each bingo call.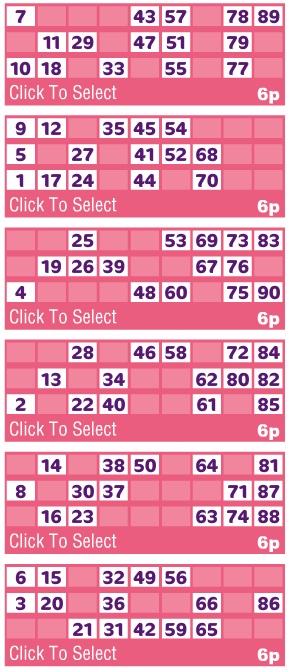 Bingo caller
The numbers 1 – 90 make up the game of 90-ball bingo.
A caller calls these numbers out one at a time as they are withdrawn by the bingo system.
At every single game, each number may be called out only one time.
Wining Patterns
When it comes to 90-ball bingo games, there are 3 successive patterns that can bring you a win and each pattern has its own prize.
Any 1 Line – Cover all the number in any single row
Any 2 Lines – Cover all the number any 2 rows
Full House – Cover all 15 numbers on a ticket
In some cases, players can collect all 3 of the prizes during one game if they are the first to achieve all 3 patterns.


Any line Any line Any line


Any two lines Any two lines Any two lines

Full house
Payouts and Jackpots
In most cases, the size of a game's payout is determined by the cost per ticket and the number of players who opted into the game. The higher the ticket price and the more players that join a game will cause the prize to be larger. Occasionally, we offer a fixed minimum prize regardless of the number of players that participate and the price of the tickets. Extra jackpot can also be on offer in a select number of bingo games.
Players can find all the details about a game's jackpot in the info bar located on top of the ticket strips, ahead of a game and throughout the game.
Game Options
Click on the Options button in the right corner of the screen to customize the bingo interface so that it matches your needs.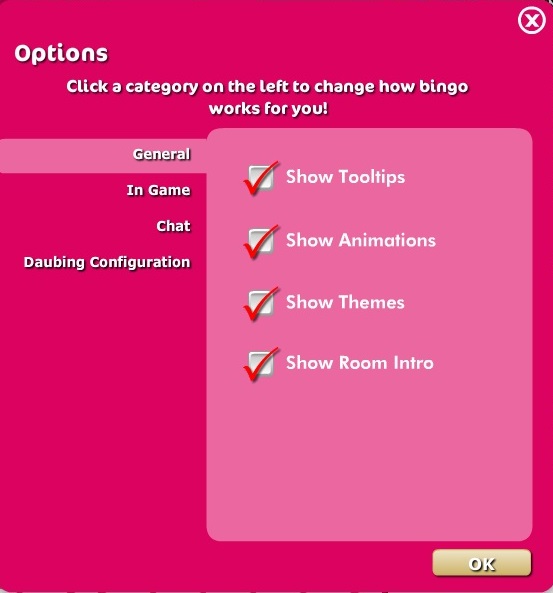 Simply choose the settings that appear in the center of the screen of your choice and click OK. You can go back into these settings and alter them at any point in time.
Settings Available:
Price alert: Lets you enable or disable the presentation of the card price within the bingo rooms.
Show 3TG: This stands for "Show 3 to go" and if you select it the bingo system will highlight your tickets that only have 1, 2 or 3 numbers left to cover until you win.
Autodaub: If you select this setting, the system will cover the called numbers that appear on your card for you.
IMPORTANT: It doesn't matter if you manually daub the numbers or if you select autodaub to have it done for you. This does not affect the outcome of the game. If you own a bingo card with a win, the prize is yours no matter what!
Best Card First: Displays your card that is nearest to winning on the screen in the top left corner.
Tickets Selection
You may choose the strips and tickets that you want to bingo with by clicking on each one or you can have the bingo system select them for you arbitrarily.
Manual Selection of Tickets
You can choose one ticket or strip at a time by clicking on each one you want to purchase. Alternatively, you can use "Click to Select Strip" to choose an entire strip. If a strip displayed doesn't feel right to you, you can click on "Get New Strip". The current strip will disappear and be replaced with a new one. However, the tickets in the current strip that you already chose will remain. To alternate between the 4 strips available, you can click on the red button in the centre with the arrow.
Selecting you tickets - Automatically
If having the bingo system choose your tickets for you sounds appealing, then you can just click on the amount of strips you'd like to purchase in the "Auto Select Strips" box. Once you have made your auto selection, you can click on any of the tickets one at a time and remove them from the strips. Your auto selected tickets total will appear underneath the auto select strips area.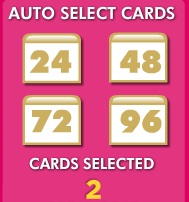 Buying Tickets
The perquisite for entering a bingo game is the purchase of at least 1 ticket.
The maximum number of tickets you can purchase in a single game is 96 (16 strips). It is only possible to purchase tickets after you have funded your bingo account with the right amount of funds. You'll always be able to view your account balance at the top of the bingo screen. To deposit into your account anytime, click the "Cashier/Banking".
The price per ticket is visible on the left hand side of the bingo screen on the top/Card itself and on the purchase panel.
Playing the Game
After you purchase tickets for a bingo game, the next step is to wait for the game to begin. You can keep track of the time left until the game starts by checking the "Game Starts" countdown., which appears in the top left corner of the bingo screen.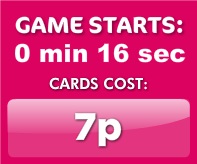 New bingo games begin every few minutes so the wait is never long. Once the game begins, all the details you need to play will appear in an info bar on top of your tickets. For example, you'll see the number of players who are playing the game, the available prizes for the patterns (1 line, 2 lines and Full House) and the jackpot prizes.
As the game is being played, the prize winners are displayed and the ticket symbol on the above right switches to show the next winning pattern in line.
Each number that is called during the game appears in the top left-hand corner inside a bingo ball. Underneath/Besides it, you'll find the last five calls that came before it, so you can keep track.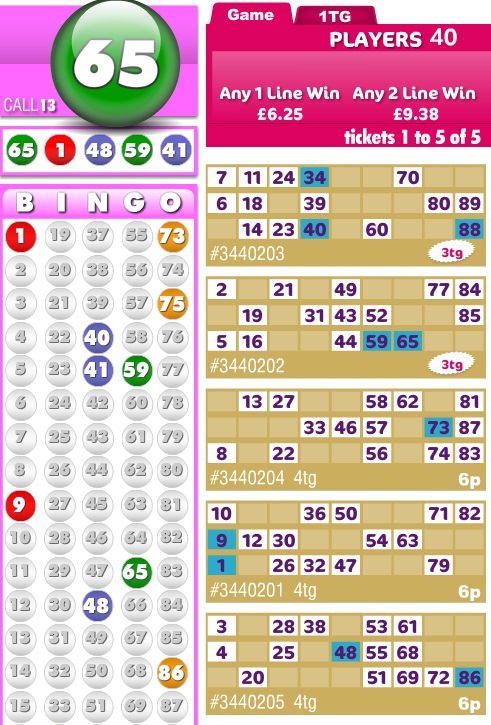 Daubing Your Numbers
Our bingo room lets you decide whether you want to daub your own bingo tickets manually with your mouse or have the system daub your tickets for you, so you don't have to worry about forgetting a number. The default selection is the automatic method, but if you prefer to daub manually, you can change the settings in the options menu by removing the checkmark beside "Autodaub". You can open your settings from the top left-hand corner of the bingo screen.
IMPORTANT: It doesn't matter if you manually daub the numbers or if you select autodaub to have it done for you. This does not affect the outcome of the game. If you own a bingo card with a win, the prize is yours no matter what!
You always have the option of turning Autodaub back on whenever you like.
Winning
If a player gets a winning pattern on their bingo card, the game will stop for a short period to display a message informing you of who won the game and how much they collected.
At the end of the game, the 3 winners will be presented in the same way to all the players in the bingo game.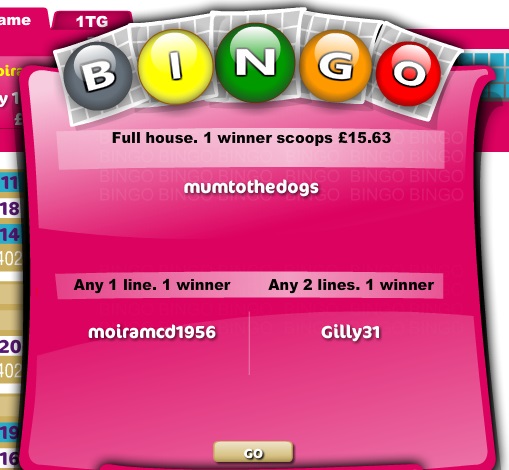 The average theoretical return to player in Bingo 90-ball game is equal to 70% while the house edge is equal to 30% (the game RTP standard deviation is affected by ticket price and number of tickets purchased in each game).
Disconnections
We understand that sometimes internet connections can be lost and that you might get disconnected whilst playing a game. If this happens, the system will continue to autodaub for you and you'll be awarded any prizes you may have won during your short time away.
What is a max buy?

Max buy refers to the maximum amount of cards you can buy for any single bingo game. You have the option in both 75-ball and 90-ball bingo games to click the Max button or to individually click on the cards to select how many you want to purchase.


What is an auto-daub?

This very useful feature automatically marks off the numbers on your bingo ticket as they are called. You can just sit back, relax and win!


Chat Games

Chat Games are played in the Chat Rooms while the bingo draw is happening. Players can win Bingo Coins and have the opportunity to make friends and take part in our online bingo community. To find out more about how to play each game CLICK HERE.


Instant Games

Sugar Bingo has loads of Slots, Casino and Instant Games for you to choose from! CLICK HERE for more information.

Progressive Slots
Progressive Slots means that the value of each jackpot increases every time you play. Just keep playing and you might hit the jackpot!
CLICK HERE for more information.


Bingo Lingo

The chat rooms are what make Sugar Bingo so fun! Here's a list of everything you need to know so that you can jump right in and get chatting!
You can also find short cut buttons in the chat rooms so you don't have to write them yourself!



| | |
| --- | --- |
| Lingo | Meaning |
| 1TG | One to go (1 bingo ball to bingo) |
| 2TG | Two to go (2 bingo balls to bingo) |
| 3TG | Three to go (3 bingo balls to bingo) |
| BLNT | Better luck next time |
| BRB | Be right back |
| BTW | By the way |
| GL | Good Luck |
| GM | Good Morning |
| HAGD | Have a Good Day |
| HB | Hurry Back |
| LMAO | Laughing my ass off |
| LOL | Laughing out Loud |
| NP | No Problem |
| ROFL | Rolling on the floor laughing |
| SS | So Sorry |
| SYS | See You Soon |
| TC | Take Care |
| TTYL | Talk to you later |
| TY | Thank You |
| TYVM | Thank you very much |
| WB | Welcome Back |
| WD | Well Done |
| WDW | Well Done Winners |
| WTG | Way to go |
| YVM | You're very welcome |
FAQ


Deposits
How do I deposit?
You need to register to the site and login to make a deposit. If you do not have an account, please register now. If you have a problem opening the 'Banking' page CLICK HERE.
There are 2 different ways to make a deposit:
From the Page Header

:
At the top of the page in the lobby or on the page you are visiting, simply click the "Banking" button to deposit.
Once you have clicked, a new screen will open. Enter your details and click "Deposit."
From your 'My Account' Page

:
Once you have logged in, there is a box on the left called "Banking." Click on "Deposit Funds" and follow the instructions. Alternatively you can click on the "Deposit" icon in the middle of the page.
Is it safe?
Sugar Bingo is powered by software belonging to Brigend Limited which is a wholly owned subsidiary of 888 Holdings Plc. and a sister company of Cassava Enterprises (Gibraltar) Limited ("Cassava").
How can I set deposit limits?
Setting deposit limits allows you to control your spending better. Go to "Banking" either through the game lobby or from your account page. On the cashier window that opens you can choose the "Deposit Limits" option and simply set your deposit limit per day / week / month.
Bonuses
Which bonuses can I find in Sugar Bingo?
When you join the site, you get a MASSIVE bonus upon first deposit. When you make your first deposit, you will receive a FREE bonus from us, giving you extra cash to play with. Read more about the Welcome Bonus here.
Withdrawals
When can I withdraw my money?
You can request to withdraw your prize money at any time. Go to the banking section on your account page or click on the "Banking" tab in the games lobby. When you click on the "Banking" tab, the cashier box will open. Check the amount you wish to withdraw is correct and press "withdraw." Your payment request will be processed after 48 hours. CLICK HERE to find out more and to read our Withdrawal terms and conditions.
Sugar Coins
What are Sugar Coins?

Sugar Bingo rewards its players with Sugar Coins, which can be converted into free bingo tickets and real cash prizes! These can be won through various ways including Chat Games and Facebook games.


Where do I redeem my Sugar Coins?

On the header of either the lobby or site, there is a button labeled "Redeem Sugar Coins." Click on this and simply choose how many of your coins you would like to redeem.
Once you have clicked on "Redeem Bingo Coins," the screen below will appear and you can chose how many coins you would like to redeem! Click "Submit" to redeem.


Forgotten Password


I forgot my Login details

At the bottom of the login box in the top right corner of the home page is a link that says "Forgot login details." Click that and then enter your email address and we will send you your username and password.


Game Issues
I can't open Games or Banking

When entering the Game Lobby, some of the games and banking features open in a pop up window, so if you encounter problems viewing them, it might be because your computer is blocking pop-up windows.

Simply check that your internet browser is not blocking pop-ups.

How? Click 'Tools' in your browser, and then turn OFF the Pop-Up Blocker. Or click on the 'Pop-up Blocked' message on top of your screen and choose 'Always allow pop-ups from this site.'


What happens if I have purchased my cards and then get disconnected from the game?

As soon as your cards are purchased, you are in the game regardless of your connection status. The game outcome is generated at our servers and if one of the cards you have purchased is a winner, then you will still win. If you get disconnected for any reason and you have purchased cards, then check your Transactions History in your My Account page to see if you have won.


Why can I not connect to the chat server?

Our chat servers may be down from time to time, but this does not happen frequently. Often, if your computer is behind a firewall, the firewall will not allow our chat servers to send messages to you. Firewalls vary on different computers but basically what you need to do is add us to your White List.


Can I keep my card numbers from game to game?

Unfortunately not. In keeping things fair, all cards are randomly generated at the time you request them. If you do not like the numbers of your issued cards, you can simply click the GET NEW CARDS button to receive a new batch.


Reversals

If you've requested a withdrawal of your funds but still fancy playing during the first 48 hours, you can reverse your withdrawal request. Head to the Cashier (either from the header in the lobby or on the site, or from the My Account page) and click on "Reverse Withdrawal" to see the Banking pop-up box. Click 'Reverse' and select any uncompleted withdrawal request and hit "Submit." This will automatically send your requested money back into your bingo account so you can continue playing!


Help & Support
What do I do if I have a problem?

Please feel free to contact us with any questions, anytime. We will do our best to answer within 24 hours, 7 days a week. We suggest that customers print out all data, including transaction information, terms and conditions and payment methods.



How can I get help?



There are 2 ways:

When you are in the Lobby, click on the "?" on the top right hand corner. A window will open with all frequently asked questions.
If you are playing a game, go to the top of the chat box. On the right hand side, there is a line saying "Chat Room." Click on the drop down tab next to it and press "Help."


Bonus Codes
What are bonus codes?

Bonus Codes are special promo codes which will give you extra bonus money to add to your balance. These codes are normally sent via email, given in the chat rooms, in an in-site-message, or posted on our Social fan pages.


How do I use the bonus codes?

When you deposit at the Cashier, you can insert the bonus code. Upon completion of your deposit, the bonus will be given in accordance with the terms of the promotion. Whenever you fund your account, i.e. make a deposit at the Cashier, you'll see a place for you to enter a bonus code. Once you enter the code and complete your transaction, you'll get a bonus in accordance with the terms of the promotion.



Just Remember

:

Copy the bonus code EXACTLY AS IT APPEARS. To avoid mistakes, you may want to copy and paste the code if possible.
Check if there's minimum deposit required to receive the bonus.
Check to ensure the expiry date of the bonus code. (Always make sure your bonus code is valid!)
We'll always tell you how many times the code can be used. If you use the code more than the number of times allowed, you won't be credited with an additional bonus.



VIP Scheme
Being a VIP at Sugar Bingo

In order to become a VIP, you need to have deposited a total of £500.


How do I become a VIP?

You will automatically become a VIP player when you have deposited a total of £500. Once you are a VIP, continue to play and enjoy all of our sweet extra perks!


Will I be notified when I become a VIP?

Yes! You will receive an email detailing all of Sugar Bingo's VIP benefits.


Email Issues



Add Sugar Bingo to your Safe Senders' list in order to receive all of our emails. To turn off your anti-spam filters, go to your email and change your settings. This way you will get all the information on our special offers.


Fair Play
How do I know the bingo games are fair?
To assure the integrity of our games, a Random Number Generator (RNG) is always used to ensure consistently random results. Whether it's the bingo ball selection, a roll of a dice, a hand of cards, or a spin of the wheel, in each event a Random Number Generator (RNG) is utilized to ensure that the outcome is truly random. The system has been rigorously tested by running millions of rounds and examining their results. The system is also systematically tested by Sugar Bingo.